Mossel Bay, Garden Route | Best Whale Watching Towns in South Africa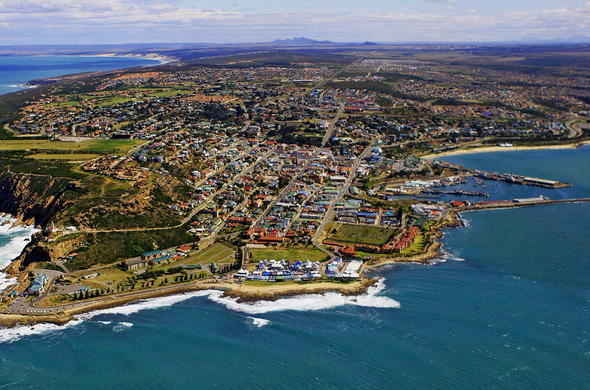 Mossel Bay offers boat-based whale watching on the Garden Route whale coast in South Africa.
This sheltered bay was a haven for European sailors in the early days of exploration of the African coast. It was here that a sailor left a message in an old boot
under a milkwood tree
and - fantastically - it was found and delivered to Portugal.
This act of spectacular postal efficiency is commemorated in the Bartolomeu Dias Museum Complex, where you can still see the gnarled old post office tree.
Inside the museum
you will find, among a whole host of other displays, a full-size replica of a 15th Century Portuguese caravel.
Other attractions include good seafood restaurants, nearby game
sanctuaries
with small game, good diving, excellent surfing and the opportunity to go sea kayaking, sailing, horse riding or bungy jumping. The nearby St Blaize Trail
offers a lovely day walk
, with fantastic clifftop sightings of dolphins and, in season, whales.
Hikers who like their luxury, can do the Oyster Catcher Trail which runs along the coast. Like the Dolphin Trail in the Tsitsikamma National Park,
this trail is escorted
and catered, and all the luggage is taken to the overnight spots by vehicle.
Mossel Bay is considered to be the western edge of the Garden Route. It is on the N2, about 400km
east of Cape Town
and just a little bit closer to Port Elizabeth in the other direction. The closest airport is George.