Knysna | Best Whale Watching Towns in South Africa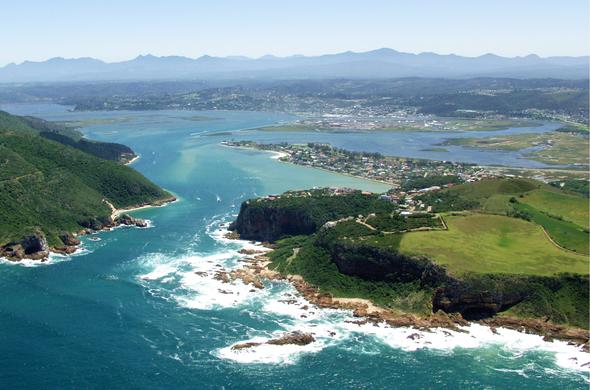 Knysna has so many stunning features, it's indescribable. It is also a good whale watching destination in South Africa.
Knysna lies between the
Outeniqua Mountains and the Indian Ocean
, with stunning forests surrounding. Dominated by its beautiful lagoon and the spectacular Knysna Heads, which guard it from the sea, makes Knysna is an attractive seaside town.
Knysna is accessed by road as it lies on the N2 between Cape Town 500 kilometres (310 miles) and Port Elizabeth 260 kilometres (161 miles). Bus
coaches provide a daily service
to Knysna from both these cities and car rental facilities are available. Flights can also be taken from Plettenberg Bay and George.
The lagoon has many good features
, but one of the tastiest is the oysters which are cultivated in its clear depths. Visitors could spend a whole day at the oyster farm, guzzling these squirmy little delicacies or paddle out on a canoe to see them in their nurseries and then munch them or take some along.
Leisurely sail on a luxury yacht, again
enjoying bubbly and oysters
. Knysna has a number of museums, all dedicated to fishing, forestry and the abortive gold mining industry, which was started (and soon abandoned) in the forest.
Originally built as a port from which to export timber harvested from the wonderful coastal forests. Knysna is now very much a tourist destination,
providing an unforgettable time
, to the adventurer or the discerning traveller.