East London, Eastern Cape | Whale Watching Towns in South Africa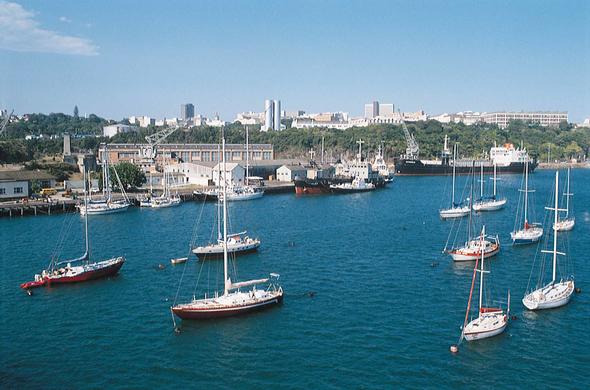 East London is a delightfully quiet little city slumbering on the edge of the Indian Ocean, occasionally looking up to see if the surf's good. Nothing happens very fast here.
The
surf is pretty legendary
and the city is well placed as a starting point for trips to and along the Wild Coast.
You could
choose between a four-wheel drive
trip or an escorted hike from hotel to hotel along the Wild Coast Meander hike. North of East London, tiny settlements lie scattered out along the coast and one of the loveliest spots is Cintsa.
About a 20 minute drive from East London is the town of Gonubie. With beautiful beaches and the
river-side picnic areas
, it is perfect for a pleasant weekend afternoon. The boardwalk along the beach was built to protect the dunes and is a wonderful way to take in the scenery of the beach and the Gonubie River mouth.
The
East London Museum
is home to a mounted, preserved specimen of the coelacanth, a fish that was thought to have been extinct for 70 million years. It was discovered in December 21st, 1938 by Marjorie Courtenay-Latimer, a young museum curator in East London. It was christened Latimeria Chalumnae in honour of its discoverer.
East London,
now called Buffalo City
, has a grand town hall in the centre of the cities main road, Oxford Street. Outside the city hall stands a statue of anti-apartheid activist, the late Steve Biko, who died while in police custody. Many well known people attended the unveiling ceremony such as Richard Branson and Peter Gabriel, who performed his song 'Biko' live, for all of the people who had gathered.
Not too far off is the
wonderful montane forest region of Hogsback
with its terrific hikes and day walks. Legend has it that it is in these tangled forests that JRR Tolkien (author of Lord of the Rings, who was born in Bloemfontein, incidentally) got his inspiration for Middle Earth.
Much of this city's
youth culture revolves around surfing
. Nahoon Reef is the most commonly visited beach for local surfers in search of good waves. The water is warm and the beach itself is tidy. Early morning walks along the shore are a fantastic way to start the day.
The Waterfront in East London hosts a number of tiny craft and gift shops as well as restaurants and pubs. You can also
take a boat cruise
around the harbour that is situated in the mouth of the Buffalo River.